Thank you for your interest in our fire prevention Birthday Parties. We've been hosting parties like this for over 30 years. We've found that the age group that gets the most out of the event is 5 to 8 years old.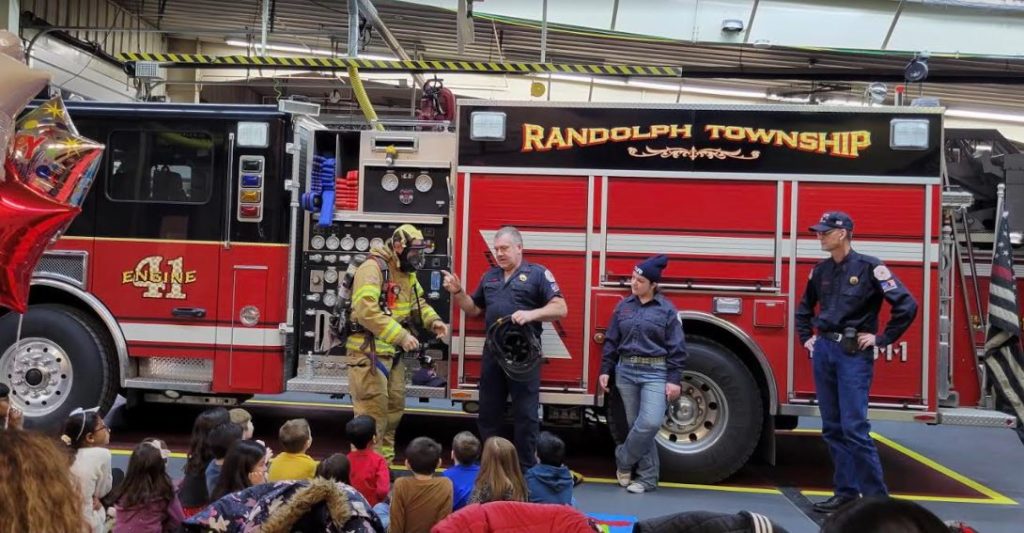 We start by having all of the kids sit with us by the fire engine. We show them the tools and equipment that we use.
We talk about fire safety.
We tell them that if there is a fire incident, they should get out and stay out of the house.
They should go to and wait at the pre-determined safe place where the family has agreed to meet in case of an incident.
Other safety tips.
Then we get the birthday girl or boy to help demonstrate "Stop, Drop and Roll."
One of the firefighters will dress up in their turnout gear to show the kids not to be scared when a firefighter shows up to help them.
There will be tables set up in the bays with the fire trucks for you to serve the kids food. After the kids eat, we pull the fire engine outside and each kid gets a turn using one of the smaller fire hoses to knock down doors on a small fake house we built, that's painted to look like it's on fire.
After that it's time for cake.
Usually, we bring out a surprise.  Patches and Pumper. He is a robotic dog that drives a fire engine.  He talks to the kids and helps reinforce what the kids learned earlier in the day.  Sadly, patches is not working right now and we are not sure when he will be fixed.
The Party Process
Basically, we keep the kids entertained for about 1-1/2 hours plus time for food and cake. Figure on about 2 to 2-1/2 hours.
The parents supply the food, drinks, tablecloths, utensils, decorations, and cake. We don't recommend spending a lot of money on decorations. The kids are there to see the fire trucks. They usually don't notice the decorations.
The parents can get there about 45 minutes to an hour before the guests. Most parties start at 11:00 AM and are over by 1:30 PM. We are flexible with the start time.
Partys are only scheduled on Saturdays or Sundays.
We have no set fee.  It's up to the parents to donate what they feel comfortable giving.  We are a 100% volunteer organization and all proceeds go towards supporting our fire house.
If you have any questions, please e-mail us at: